Starting right from the campsite you can make some beautiful walks. Maps and descriptions in English of these walks are available at the reception. The photographs on this page were taken during the walks and give an impression of the direct surroundings.


Dolphin Camping Walk 1
Duration: 3 hours walking steadily 4-5 hours walking slowly, including breaks

** Leave the campsite at the rear exit, or walk around the campsite by turning left and left again. Walk in the direction of the Agion Ioannis monastery, pass by the monastery and pass across a round concrete square, turning to the right and turn left after a row of conifers (cypresses), climbing and entering into a plot of land. Pass between a date tree and a palm tree you'll find there, you'll see a small house on your left. Follow the path until you arrive at the fence. On the left side you can easily climb over the barbed wire. ** Take the rough road uphill (not the one on the left). After stopping for a few seconds you can take a look behind you and see the superb panoramic view on the Sidari bay. The road continues uphill. After a slight descent with a view on Albania, the (now) concrete road climbs steeply. You'll pass two houses on the left, the road becomes an asphalt road, and shortly afterwards you'll find another house on the right. Just after this house, the road turns sharply to the right.

Turn to the left in that sharp turn and follow the rough road straight ahead (don't turn to the left).

Shortly afterwards there is a turning to the right where you find a fence with number 99 on it

.
Turn left and take the path that drops steeply down (take care, the ground may be slippery at times when the olive nets are down). Continue descending until you arrive at a terrace where vegetables are grown. Keep to the hillside on your right, passing through the olive grove and take the road bearing to the right, a rough road , which shortly afterwards joins an asphalt road, bear to the left to Yalo beach. Close to the beach you'll find a restaurant on the left. (you could have a drink here, lie some time on the beach and go the same way back again)

If you wish to continue your walk to Agios Andreas, Astrakeri and Karoussades, go down to Yalo beach, cross a small stream which runs over the road and bear right, climb up the steep hill, on a concrete road. After reaching the top of the hill, you come to a T-junction. At this point turn left to Agios Andreas. The road bears to the right, as you descend you'll see houses on both sides of the road. (e.g. house Eleni). After reaching the tavern Andreas, keep to the right, where you follow the path which goes steeply down to the beach. Go along the beach in the direction of the small port. Away from the port, slightly to the right, you eventually can take a break at the Three Brothers Fish Restaurant (nice cooking and many Greek clients).

Continue the walk along the beach, until after some 80 metres, you'll find an asphalt road. Bear to the right. Shortly afterwards you'll see on your right the small taverna Akrogiali (Agnos beach). Follow the road inwards until you arrive at a T-junction, where you turn to the right. Shortly afterwards you reach the main road Sidari – Roda, which you can recognise by the red stop sign. Cross over the road and turn left and immediately after to the right (there is a three floor beige/rose house on the corner). This cobbled road snakes though the valley. Continue on the main rough road, there are many roads going left and right, but you can see that they are less important. On your left you see the mountains of the Pantokrator. The last part of the road goes steeply up and is asphalted. Once you have joined the main asphalt road, you turn to the right to Karoussades.

After a huge pine tree and a monument turn sharp to the right, the road is going uphill to the centre of Karoussades, where on the square there are some shops among others the bakery. On this small square turn to the left, steeply uphill. At the statue of Constantinos Theotokis, turn right, the road snakes through another part of Karoussades, later on descending direction Sidari. At the first crossing, (where in fact two roads run parallel, making a kind of H-junction), turn right, you are on the main road Sidari – Roda, and turn immediately left, following the steep descent, a concrete road (on the right you see a chicken coop), later on the road is asphalted. At the end of the road, after a row of conifers (cypresses), turn left. Shortly afterwards you'll find houses on the left, starting with "villa Dora". You find yourself on the small road Karoussades – Agios Ioannis and you'll arrive at the campsite after some ten minutes.

** easier to find version from ** to **: Start the walk, leaving the campsite at the main exit. Turn left direction Karoussades, pass by the Kostas/Amalia-shop and after a while, turn left where you'll find a white and a yellow coloured house on the right. Follow this rough road, which is made of concrete in the steep sections, it snakes uphill, you'll see some houses on the left and the right until you arrive at a rose washed house with a small chapel in front of it. At this point the walk continues where we marked the asterix**

Enjoy your walk!
Copyright: A.J. van der Veen and Camping Dolphin
Translation into English: Courtesy of Tony Tattoo


Dolphin Camping Walk 2: 12.1 KM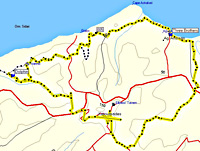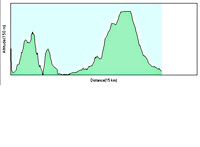 Dolphin Camping Walk 3: 4.2 KM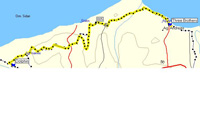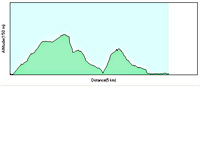 Dolphin Camping Walk 4: 11.5 KM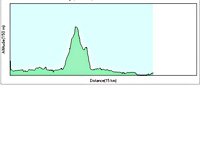 Dolphin Camping Walk 5: 5.1 KM